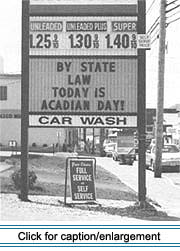 Maine Acadians possess a strong sense of who they are. They express what it means to be a Maine Acadian in diverse ways, depending on the situation and whether they are acting as individuals, families, communities, organizations, or in other groups. Contemporary Maine Acadians use at least three terms to name their ethnicity. "French" is widely used for self-identification and to differentiate themselves from other cultural groups. Over the last 20 years, the term "Acadian" has gained increasing use through the activities of Upper St. John Valley historical societies and the University of Maine at Fort Kent, and through popular civic events such as the Acadian Festival. "Acadian" appears to hold the greatest meaning and to be used most frequently by cultural activists, including prominent lineal descendants of the first Acadian settlers in the Valley. Some Maine Acadians refer to themselves as "Franco-American." This term, however, is more frequently used in reference to Americans of other French or French-Canadian descent in Maine and New England. Individuals generally prefer one of the above terms over the others, but many people choose between them depending on the situation.
In addition to what they call themselves, the way in which Upper St. John Valley residents express their understanding of their cultural identity is shaped by many factors. For instance, discussion of Maine Acadian worldview is always influenced by who is asking about the subject and of whom; the respective age, gender, and educational and economic status of each person involved in the discussion; what community each is from; whether they have experienced stigmatization based on ethnic, religious, or linguistic affiliation; and the context and language in which the discussion is conducted.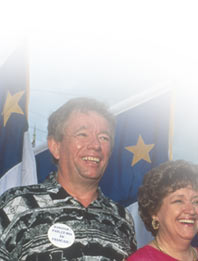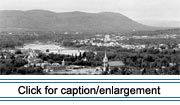 While cultural outsiders and visitors to the Valley often mistakenly view Valley residents as an homogenous ethnic group, Maine Acadians recognize significant differences among themselves. They attribute the differences to variations in their communities and families of origin, as well as differing individual life experiences. As evidenced by the following encounter, reported during a meeting of the Maine Acadian Culture Preservation Commission (Jan. 1993) by member Claude "Blackie" Cyr, the place in the Valley where one was raised is nearly as important in understanding that individual as knowing his/her family lineage:
Well, I sat with [a man I've known since 1956 or '57], probably a day or two before Christmas, and I found a brand-new side to him. He made me aware that he was born in Daigle, Maine . . . a little community on the outside of Fort Kent. I always assumed [he] was from Fort Kent, but he's not from Fort Kent, he's from Daigle. . . . And his mother was a Daigle and father was a Pelletier; so he was everything there was there.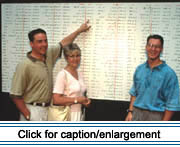 Like many contemporary Maine Acadian stories that are conveyed in public gatherings, the above anecdote primarily serves the local audience by weaving the past with the present to reinforce current views of group identity and appropriate behavior. First, stating that the conversation took place just before Christmas serves as a reminder of the group's Catholic heritage. Second, the teller suggests the appropriate distancing between public and private Maine Acadian "selves." Though he had known the man for more than 30 years, this was the first time that this personal information was conferred by the prominent individual. Third, the teller acknowledges his prior assumptions and recognizes farm and town distinctions in distinguishing between Daigle and Fort Kent as the other man's birthplace. Fourth, identifying the man's mother as a Daigle indicates descent from one of the first Acadian families in the Valley and lineal connection to land, both of which are widely valued attributes. Finally, Pelletier is a long-established Valley family name of Québecois origin, thus making the man "everything [Maine Acadian] there was there."
Maine Acadians, and many other American ethnic groups, contribute to their sense of distinctive identity within the larger society by distinguishing between themselves and other cultural groups. Notably, while Brassieur (1992) identified numerous similarities with the culture of Louisiana Cajuns, Maine Acadians do not generally think of the two groups as closely related. Maine Acadians more frequently recognize their cultural kinship with Acadians and Québecois&eacute in Canada. The following story about the origin of the name "Farlagne," told by Louis Chartier in a focus group on Maine Acadian identity (1993), suggests that on both sides of the Valley there is a principal distinction between those who
are culturally "French," in the local sense, and those who are culturally "English." The governments of the United States and Canada are clearly associated with the latter.
Up the road in Edmundston [New Brunswick] there is a place called Mont Farlagne. It is a ski resort . . . and it's renowned, but the word Mont Farlagne or Farlagne is funny how it was arrived at. Because the farmlands were divided on this side of the river the same as that side. . . . they decided to cut a fire line. The government came in and said, "In case of forest fire, you lose all your land." There are woods . . . so they cut a wide strip called the "fire line." The kids would come home from school, and of course the government was English speaking and they would, each farmer, cut a fire line--each farmer was responsible to cut his half of it--so the kids would come home from school and say, "Maman, où est Papa?" And she would say, "Farlagne." And that is how the name came about.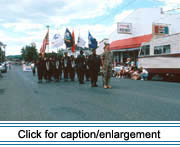 While contemporary Maine Acadians maintain social and business ties to New Brunswick and Québec, they feel distinctly American. They point to their active, long-time participation in the American political and educational systems, along with exemplary military service, as evidence of their identification with the United States and similarity to other Americans. They often refer with pride to Valley residents who have held leadership roles in the Maine legislative and judicial systems. As often as Maine Acadians in the Upper St. John Valley recount family ties to Canada, they cite relatives living in New England, as well as Florida, California, and other states. When the issue arises, American residents of the Valley clearly distinguish their cultural identity as Maine Acadians from the political connotations they associate with being "French" in neighboring Canada. Shirley Harrigan of Madawaska explains a common Maine Acadian view of the difference between themselves and their neighbors and relations across the river (focus group 1993):
If you ask a kid in Madawaska, "Are you French or American?" the kid will say, "American." If you ask a kid in Edmundston [New Brunswick], "Are you French or Canadian?" they'll say, "French."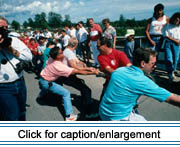 Still, people from both sides of the Valley participate in cultural and sporting events together, and in Van Buren, Maine, and Saint-Léonard, New Brunswick, they share in an annual festival, Festival des deux rives. These two towns share a common municipal flag, chosen in 1989 upon the 200th anniversary of the founding of their communities (LaPointe 1989: 346). Nonetheless, addressing the Maine Acadian Culture Commission (May 1993), Guy Dubay captured the predominant view:
Living on the border, yes, we socialize. . . . We share common experiences, but we live also in two different countries.
Unlike relations with nearby Canadian and American groups of French descent, connections between Maine Acadians and less culturally similar groups in Northern Maine are not widely acknowledged in the Valley. For instance, when contact with Native Americans is addressed in public expressions of Maine Acadian identity, the belief is commonly expressed that Maine Acadians have consistently enjoyed good relations with the Maliseet and Micmac, but have been little influenced by Native American cultures. Several factors suggest a more complex history of interaction with Native Americans. Genealogies show intermarriages occurring in the St. John Valley from early European settlement up to the present day.
Evidence of extensive contributions to Maine Acadian culture by the Micmac and Maliseet can be detected in a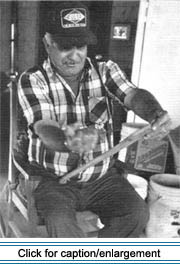 number of widely known Maine Acadian legends, songs, poems, and place names. The widespread use of plants, tools, and other implements of Native American origin and manufacture is also evident in the Valley. For example, one of the hand tools traditionally used by the Micmac in basketmaking is the "crooked knife." Use of this distinctive woodworking tool requires that it be pulled toward the user. Maine Acadians learned to use crooked knives from their Native American neighbors, and it became a favored tool for making axe and other tool handles, baskets, and canoes, and for fashioning other items used on the farm and in the lumber camp (cf. Brainard 1962: 175; Witthoft 1963: 199 and 208; Blodgett 1964: 287).
Scots-Irish, English, Yankees, and Swedes are considered by Maine Acadians to be collectively "English." Connections with these neighboring groups are discouraged by the local conviction, particularly prevalent among older Maine Acadians, that "English" and "French" cultures are fundamentally incompatible. Disdain for these neighboring groups arose during the long period of their political and economic domination over Maine Acadians, and is sustained by the continuing prejudice encountered by the French outside the Valley.
A fuller analysis of the origins of locally adopted "English" cultural patterns and those derived from shared American experience that comprise elements of contemporary Maine Acadian culture, would require ethnographic and comparative study beyond the scope of this report.