The foods of the Upper St. John Valley reflect both Acadian and French-Canadian traditions, as well as a more general regional tradition. These combined traditions are apparent in the food served in private homes, at community gatherings, and in Valley restaurants.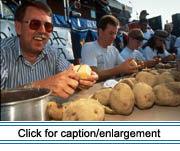 It should not be surprising, given the importance of potato farming in the Valley, that potatoes—French-fried, mashed, baked, or otherwiseófigure prominently in most meals. In Maine Acadian homes, the potato is prepared in many ways: baked, creamed, mashed, hash-browned, fried, stuffed, and boiled. It is prepared in au gratin and soufflÈ dishes, and used in stews, soups, and many types of casseroles and salads. Potato doughnuts, potato cookies and muffins, potato custard pie, several varieties of potato cake, and a few kinds of potato candy are also made in the Valley. Restaurants in Frenchville and Madawaska serve "JoJo potatoes," which are large potato slices cut lengthwise and batter-fried.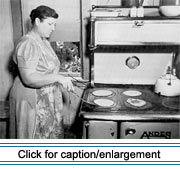 While buckwheat pancakes were once common all over Acadia and French Canada, in the Upper St. John Valley they have become a symbol of local culture on both sides of the international border. There are two varieties of buckwheat pancakes. The one found in the Valley is the Acadian variety, made from fine "yellow" buckwheat flour, while the coarser "gray" buckwheat flour is commonly used in QuÈbec. The ployes served at local restaurants vary a great deal with regard to texture, thickness, and color. This sort of sub-regional variation is the source of a good deal of discussion about the features that the archetypal ploye should possess. This distinctive regional food, once a daily staple in many Valley homes, is apparently not now prepared as much as it once was. Ployes are nevertheless linked to Maine Acadian identity, and they stir a certain nostalgia among locals and among those who have moved away from the Valley and return as summer visitors. Ployes are publicly prepared at community events and school programs with Maine Acadian heritage themes.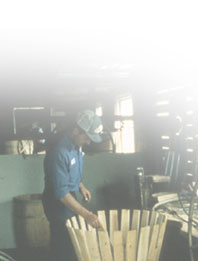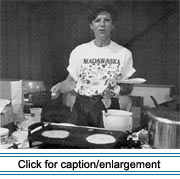 One French-Canadian lunch favorite offered in local family-style restaurants is le p'tÈ chinois (shepherdís pie), a casserole of mashed potatoes, ground meat, and corn. Chicken stew is another favorite meal among Maine Acadians. Small, rolled poutines or pate roulÈes (dumplings) are added to the boiling stock. The use of poutines is a regular part of traditional maritime Acadian cuisine. Only flour-based dumplings are made in the Valley, however. The traditional Acadian potato dumplings known as poutines r'pÈes are not found in the area.
Large and small-scale family gardens are common and include table potatoes, Èchalotes (shallots), and other vegetables. Herbs and spices typically grown in home gardens are used to season chicken stew and other dishes, and are important elements of local cuisine. Cyr (1977) describes the use of parsley, chives, thyme, peppermint, and rosemary for cooking and medicinal purposes. Summer savory is another common ingredient; American Folklife Center fieldworkers (1992) observed bunches of the fresh herb hanging from the kitchen wall at Dorisís CafÈ in Fort Kent Mills. Les herbes salÈes, the chopped tops of Èchalotes (shallots) cured in salt, are also commonly used. Jars of this salty ingredient are put up during the summer and used throughout the year to season many dishes.
Some traditional Maine Acadian food is prepared only for special occasions. The 1991 Lavertu family reunion, for example, featured roasted pig. The young pig was butchered and prepared by Jesse Michaud, owner of a small general grocery store built as an addition to his home in Frenchville. The pig was roasted whole on a grill made from a large heating-fuel tank (of the sort in common domestic use), outside the large Quonset-type potato house in which dining tables were set up. The meal also included baked beans, several types of potato salad, and other salads.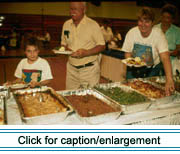 Different kinds of meat pies are also prepared for special occasions, including Christmas and New Yearís festivities. These pies are called tourtiËres, and their ingredients may include chicken, pork, beef, veal, or a combination of these, and sometimes potatoes. For special large holiday gatherings, pot-en-pot is prepared. It is a very large, layered, meat pie baked in a roasting pan. Layers of sliced potatoes, four or more different meats, strips of dough or dumplings, and seasonings are covered with a pie crust and baked for hours. A hole is left in the dough covering so that water can be added during cooking. The traditional pot-en-pot usually has venison, wild birds, rabbit, or other game, as well as pork and beef. Allspice, cloves, and cinnamon are commonly added.
Today, the fall and early-winter boucheries des cochons (hog butcherings) are not as important social events for Maine Acadian families as they were in the past (Lindsay 1983). However, a number of special products of the boucherie remain part of the foodways of the Valley. Locally made cretons, a pork p'tÈ also traditional in QuÈbec, is served in restaurants and is available at most grocery stores. Boudin, a blood sausage, is also sold at grocery stores. Upper St. John Valley boudin is similar to the boudin made by the French Creoles of Missouri and Illinois, but it differs from Louisiana boudin rouge, which often has rice as an important ingredient. Gortons, a word that derives from gratons, are pork cracklings that are still made today in the Valley.
The pastries and breads prepared by Valley residents are similar to those of other French communities in North America. CrÍpes, for instance, are thin wheat-flour pancakes that are still commonly prepared in the Valley. Croccignoles are a twisted pastry that is fried in fat. Beignets are made from pieces of fruit (usually apples) cooked in a sweetened batter. While beignets are normally fried in deep fat, the local version is cooked in maple syrup.
The people of the Upper St. John Valley also take advantage of wild plants and berries. During early spring, pissenlits (dandelion greens) and la poulette grasse (goose foot; chenopodium) are harvested and eaten as a vegetable or used in soups. La fougËre (fiddlehead fern), a popular regional delicacy in Maine and New Brunswick, is also gathered during the spring. A locally-invented rotating, cylindrical, screened device helps in the washing and preparation of the fiddleheads. Strawberries, raspberries, blueberries, and currants, are also harvested in their turn. Wines and herbal teas are made from fruits and leaves of wild cherries, elderberries, and cowslip, among others (Cyr 1977). Another important traditional wild harvest is taken from the sugar maple tree. In recounting her early life in the Valley, 82-year-old Marthe Cyr recalled time spent at the sugar house with her grandfather as her favorite childhood activity (Cyr 1977: 71). The early-spring tapping of maple trees continues to be an exciting time for many in the Valley. Maple syrup, taffy, and sugar are produced annually, along with a variety of confections and sweet treats.