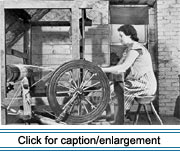 Photographs of the 1940s (Farm Security Administration Collection, Prints and Photographs Division, Library of Congress) show an extensive amount of hand-spinning and weaving at that time by Maine Acadians in the Upper St. John Valley. For instance, see the photo of Marie Albert Dummond to the right.
The many tools and woven items held in local museum and private collections also reflect the strength of textile production activities throughout the history of settlement in the Upper St. John Valley. Wool blankets and wool sheets survive. Examples of linen are rare, but tools particular to the long process of making flax into linen such as flax breaks, hetchels, and distaffs can be found. Spinning wheels, yarn winders, and looms, which could have been used in both wool and linen production, are also part of Upper St. John Valley collections relating to textiles.
Wool blankets, because of their quantity, hold a particularly important place in the Valleyís traditional material culture. They are also significant for their variety of styles and production techniques and the extent to which these styles and techniques reflect the Valleyís cultural connections to Acadian and French-Canadian populations of Canada as well as to Acadian Louisiana.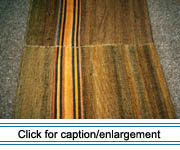 Generally, blankets that survive in Valley collections today were made with a wool weft and a cotton warp and were woven on two-harness looms. The blankets range between 80 and 90 inches in length and were made of two panels, each approximately 32 inches wide, hand-stitched together. Single-panel blankets made as baby or christening blankets can also be found. Upper St. John Valley residents describe blankets as either "dÈfaite" or "new wool," depending on the type of wool used and the particular way it was prepared for weaving.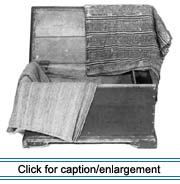 During the 19th and early 20th centuries, nearly every Valley farm had sheep to provide the family wool supply. Even so, quantities of wool were limited and had to meet the many clothing and bedding needs of large families. As a result, thrifty Valley people recycled knitted and woven wool for reuse in blankets. Literally translated as "undone," some dÈfaite blankets were made of wool yarn that was unraveled from knitted sweaters or socks. These types of blankets are recognizable by alternating bands of color throughout the piece. In their design incorporating well-balanced bands of color, these blankets show a strong relationship to French-Canadian and Acadian weaving in Canada and Louisiana.
Other dÈfaite blankets incorporated an even more arduous wool recycling process that, according to some residents, involved the work of family members from children to adults. In this process, wool from worn-out knitted or woven garments was pulled apart, rewashed, respun, and reused as the weft threads in woven blankets. To add strength to the yarn, new wool was spun with the reprocessed wool fibers, producing a mottled gray or brownish yarn that was used predominantly throughout the blanket. Weavers then added bright bands of color on each end.
Traditionally, the most highly prized wool blankets were those made from new, rather than recycled or reprocessed wool. New wool blankets were almost always white with a pattern of identical bands of color at each end. Many of these new wool blankets were given as wedding presents or made as christening blankets and bear a strong resemblance to similar blankets woven in Canada.
While wool blankets are the most numerous survivors of the weaving tradition in the Upper St. John Valley, other materials and products came from Valley looms. One Maine Acadian spoke of weaving líÈtoffe. This material incorporated wool yarn in both its warp and weft. After it was woven, it was dipped first in hot, then in cold water in order to shrink it. The result was a tightly woven fabric that could be sewn to make a very warm garment.
Catalognes are another important survivor of the Valleyís weaving tradition. In their designs, which often incorporate patterns of colorful bands alternating with a solid color throughout the piece, catalognes are similar to the banded dÈfaite blankets made with recycled yarn.