Unlike other properties described in this report, the Pelletier-Marquis House is not located on a "treaty lot" or a "river lot." Instead, the lot on Long Lake is on land locally known as "les concessions."
In an attempt to encourage railroad development, the Maine state government issued a land grant of one million acres to the European & North American Railway in 1869. This grant created conflicting claims, and the Commission on Claims of Settlers on Proprietors' Lands in the County of Aroostook was established in 1873. The commission issued a report in 1874. Among the claims listed in the report is one made by André Pelletier of Township 18, Range 4. The report indicates that Pelletier "took up" the property in two pieces in 1853 and 1871. In the year of the report, the first parcel was improved with a house, barn, and stable. While the original state grant for this lot has not been located, the oldest portion of the Pelletier-Marquis House is believed to date from 1853 (Dubay 1976).
In 1875, André Pelletier received an eviction notice from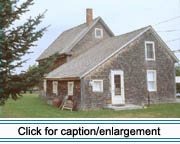 bond holders for the European & North American Railway who sought to recover their losses by attaching the railroad's property when the railroad defaulted on its notes. Because the railroad's claims conflicted with settlers' claims, Pelletier and 127 rear-lot farmers received eviction notices. Documentary evidence indicates that Pelletier continued to occupy his homestead despite the challenge to his ownership.
André Pelletier, whose family can be traced back eight generations in Québec, was the son of Alexandre Pelletier and Angelique Lebel, who had married at Saint-Louis de Kamouraska in 1814. André married Scholastique Chamberland at St. Luce Church in Frenchville on November 23, 1847. They had 12 children. Later owners of the Pelletier-Marquis House included two families living in it at the same time. While the Marquis family occupied half of the house, the Sylvain, Chassé, and Picard families each in turn occupied the other half. Consequently, the succession lines became extremely complex.