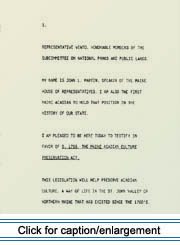 In testimony for the same hearing, Speaker of the Maine House of Representatives Martin added that Maine Acadians ". . . have a story to tell and a rich heritage to preserve and protect for the next generation of Maine and American citizens--and not just for those of French ancestry."
In testifying about the distinctiveness of Maine Acadian culture, Senator Cohen also pointed out that Maine Acadian heritage is endangered:
The focus of the community was the church, and the strength of the Acadians' culture lay in the importance of the church and the family. Through the years, the Acadians have perpetuated their strong beliefs and have been successful at preserving a way of life that is unique in Maine, despite the pull of time and change. Still, older members of the community fear that their children and grandchildren will eventually lose touch with their heritage as buildings decay and community members move or pass away. So there is real concern about the future of the Acadian culture among the Acadian community in Maine. . . . We need to preserve these pockets of ethnic culture. . . . Once a facet of our history is lost, it cannot be retrieved, and we are diminished as a consequence. (U.S. Congress 1990a: 54)
Senator Mitchell concurred in his statement before the same Senate subcommittee:
[Maine Acadians] are at another crossroad. Their enemy now is not deportation, but the possible loss of customs, oral history, folksongs to a modern age that all too often sacrifices the tradition of the past to the immediate. It is terribly important that the culture and history of this people be celebrated and preserved before it is lost to future generations. (U.S. Congress 1990a: 47)
The Act, in summary, directs the National Park Service to document, and assist in interpreting and preserving Maine Acadian culture. The Act established the Maine Acadian Culture Preservation Commission to advise that process.